Billing X-rays To Medicare
If diagnostic services are shown on the claim form, the ordering physician's name should appear in block 17 and his NPI number in block 17b. Block 17 should be qualified with DK which indicates that the chiropractor is the Ordering Provider.
The only diagnostic services that a chiropractor will probably do is x-rays (and blood work if you do that). Evaluation and Management (E/M) services are not considered diagnostic services, they are physician services.
In this example an x-ray (72050) is being filed. Since an x-ray is a non-covered service, it should be modified with a GY modifier (the only covered service for a chiropractor is the adjustment).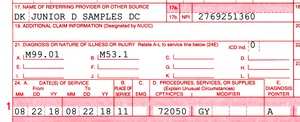 ---
FormSmith Software users: When filing Medicare claims the software will automatically add the GY modifier to non-covered services. If the modifier is not added, then something is not setup correctly in your system – call support.