GP Modifier for Therapies
Insurance policies are written in segments or riders. Chiropractic services are covered under the chiropractic or physician portion of the policy but therapies are generally covered under a therapy portion.
The therapy portion of the policy covers all therapy no matter who provides the service. This means that when a patient comes to you they could have chiropractic coverage but the therapy benefits could have already been exhausted because the patient went to a physical therapist before coming to you.
Insurance companies are beginning to require that "Always Therapy" codes be modified to enable accurate reimbursement. There are three modifiers that apply to therapies:
GP for physical therapy
GO for occupational therapy
GN for speech language pathology plan of care
This is a list of "Always Therapy" codes:
92507; 92508; 92526; 92608; 92609; 96125; 97012; 97016; 97018; 97022; 97024; 97026; 97028; 97032; 97033; 97034; 97035; 97036; 97039; 97110; 97112; 97113; 97116; 97124; 97139; 97140; 97150; 97530; 97533; 97535; 97537; 97542; 97750; 97755; 97761; 97763; 97799; G0281; G0283; G0329
The short version for Chiropractic is this – when required by the insurance company, the GP modifier should be added to all therapy codes.
Effective September 1, 2019 ALL United Healthcare (UHC) and subsidiaries like Optum and UMR will require the GP modifier on therapies.
Claims to the Veterans Administration require the GP modifier.
Medicare currently requires the GP modifier. (And since therapies are a non-covered service in the Medicare program, they should also be modified with the GY modifier).
---
Instructions for the FormSmith Software Program
To automatically modify therapy codes with the GP modifier for an individual insurance company:
Click File | Insurance Companies
Choose to edit the insurance company
Click on the "Form Completion" tab
Check the "modify therapies with GP" check box
Click the "OK" button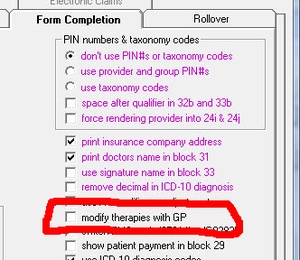 ---
If you need powerful, reliable, supported and easy to use practice management software click FormSmith