Tax ID, NPI, UPIN, PTAN, Provider and Taxonomy Numbers
Zero State
Before you begin treating patients, you should setup the structure of your practice. First off, you should decide if you want to incorporate. A corporation provides a layer of protection for your assets. The laws governing incorporation vary state to state and there are multiple types of corporations so this decision should be made with the advice of an attorney.
You want to decide whether or not to incoporate up front because converting your practice structure from a single owner to a corporation is a nightmare! It means that you have to re-register with Medicare and all the insurance companies that you participate with.
When choosing a name for your corporation, we recommend that you use your own name e.g. Junior J Samples DC PC. The "PC" indicates "Public Corporation." You can still use a clinic name such as "Samples Chiropractic" under a DBA (doing business as). Again, consult with your attorney.
Just keep in mind that if there is ever a legal question about your corporation the first thing you will be asked for is the minutes of the annual meeting.
Tax ID Number
If you are incorporated, you will need a Tax ID number for the corporation.
If you are not incorporated, you could operate under your Social Security Number (SSAN) but we don't recommend it. This can lead to identity theft. You can and should get a Tax ID number if you are not incorporated.
Tax ID numbers are issued by the Internal Revenue Service (IRS). Your accountant can help you with this.
The Tax ID number should appear in block 25 on the claim form.
In addition to the federal tax id number there may be state requirements as well. Especially if you are required to collect and report sales tax.
NPI
You will need to obtain a National Provider Identification (NPI) number for the doctor and if you are incorporated, you will need to get an NPI number for the corporation as well.
You can apply for NPI numbers HERE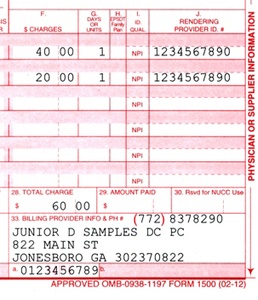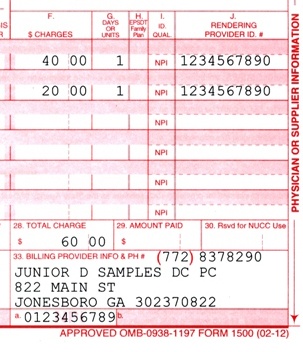 The doctor's NPI number appears in block 24j.
Block 33a will contain the NPI number for the incorporated clinic or the doctor's NPI if the clinic is not incorporated.
UPIN
A unique physician identification number (UPIN) was a six-character alpha-numeric identifier used by Medicare to identify doctors in the United States. They were discontinued in June, 2007 and replaced by National Provider Identifier, or NPI numbers.
Provider Numbers
In the old days, insurance companies issued provider numbers to the doctor. Providers number have been mostly replaced with NPI numbers; however, some insurance companies still issue provider numbers.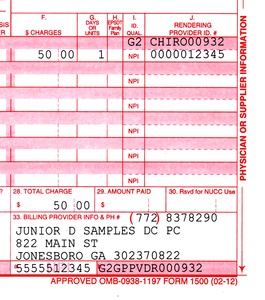 If the insurance company has issued the doctor a provider number it should appear in the shaded portion of 24j.
If the insurance company has issued the clinic a provider number it should appear in block 33b.
Provider numbers require a qualifier:
N5 – provider plan network id no
SY – social security number
X5 – state industrial accident provider no
X4 – clinical lab improvement admend no
1A – blue cross provider number
1J – facility identification number
B3 – ppo code number
BQ – hmo code number
FH – clinic number
G5 – provider site number
TJ – federal taxpayer's id number
ZZ – mutually defined
The only valid pin number qualifiers for electronic claims are:
0B – State License Number
1G – Provider UPIN Number
G2 – Provider Commercial Number
LU – Location Number
Some insurance companies require a space between the qualifier and the PIN number.
PTAN
When you enroll to be a provider in the Medicare system, you will be issued a Provider Transaction Access Number (PTAN). This number does not appear anywhere on the claim form. But you will be asked for your PTAN when you call your Medicare Administrative Contractors (MACs) for assistance.
Click Here for information about enrolling in Medicare
Taxonomy Code
The taxonomy code identifies the type of doctor.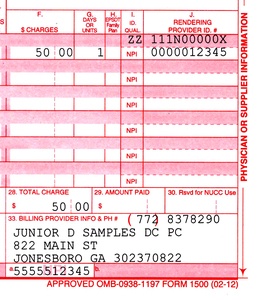 If the insurance company requires you to use your taxonomy code, it should appear in block 24j in the shaded area. The "ZZ" qualifier indicates that the code is "mutually defined." In other words the insurance company knows that this is a taxonomy code.
These are the taxonomy codes for Chiropractors and Chiropractic specialities:
111N00000X – Chiropractor
111NI0013X – Independent Medical Examiner
111NI0900X – Internist
111NN0400X – Neurology
111NN1001X – Nutrition
111NP0017X – Pediatric Chiropractor
111NR0200X – Radiology
111NR0400X – Rehabilitation
111NS0005X – Sports Physician
111NT0100X – Thermography
111NX0100X – Occupational Health
111NX0800X – Orthopedic
Practice Data Form
Download this free form to keep your practice data information in one place.