Paper Claim Printing Standards
Insurance companies use optical scanners to read paper claim forms and convert the information on them into an electronic format. This prevents the claim from having to be keyed into the computer by hand. Scanners can read approximately 2500 claims per hour and they have a 97 to 98 percent accuracy rate.
Claims must meet certain Optical Character Recognition (OCR) specifications to be successfully scanned. Claims that do not meet these standards may be rejected and returned as unprocessable.
The claim form itself must be printed in "red drop out" ink. Scanners don't "see" this color ink. Photo copies and faxed copies of forms cannot be scanned. Red drop out ink forms may be purchased from Data Media Associates
For best results, claims should be mailed in a flat envelope. This prevents them from having to be un-folded and it also assists the feeding of the claim into the scanner.
Using the proper font is necessary for the alignment on the information on the form. The print must be a fixed pitch font at 10 characters per inch (PICA 10 point). Times New Roman works best. Courier or Courier New is acceptable. In a fixed pitch font, an 'O' and an 'I' take up the same width. This insures that the information on the form lines up vertically.
No characters should be touching, and there should not be lines from the printer cartridge anywhere on the claim.
Fonts should not be mixed, and they should not be in italics or script.
Keep everything in the same case (either all lower or all upper for all alpha fields). Mixed case can confuse character recognition (like '1' can become an 'I').
Special characters should not be used, i.e., dollar signs, decimals, or dashes.
Extraneous information should not be attached, printed, hand written or stamped on the form.
Only use black ink. Due to the use of OCR equipment, no red ink should be used to complete a claim form. This equipment may not recognize the red print on the red form and may 'drop' the text. The only ink that is picked up correctly is true black ink. Any variation of blue, purple, or red ink should not be used.
Avoid old, faded or worn printer ribbons.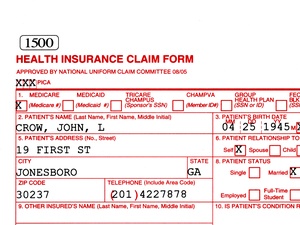 PICA boxes are located on the top left of the claim form and are used for alignment. Proper alignment is necessary for the claim to be processed correctly.
Any information printed on the form should not stray outside the confines of it's box. The OCR equipment may not read information that is not aligned properly causing unnecessary denials or incorrect payment.
A single claim can be used to report up to six services, do not squeeze two lines of service onto one line.
Standards for Form CMS-1500 paper claim are set by the National Uniform Claims Committee (NUCC). Click Here for the complete manual.
And of course, Medicare is the exception to everything and does not always follow the rules set by NUCC. Click Here for an example.