VA Claims
Chiropractic services are part of the standard Medical Benefits Package available to all eligible Veterans.
However, there are a few rules you need to be aware of when filing claims to the VA. In general, since this is a federeal government program, the claim should follow many of the Medicare Guidelines:
The type of insurance indicated in block 1 should be other.

All adjustments (Chiropractic Manipulative Therapy – CMT – 98940/98941/98942) must be modified with the AT modifier to be considered. AT indicates that the adjustment is an 'active / corrective' treatment. Click This Link for more details
All therapies must be modified with the GP modifier.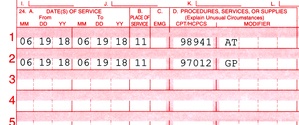 The CPT code 97014 (Unattended Electric Muscle Stimulation) must be replaced with the code G0283.

The NPI number of the rendering provider should appear in block 24j

If there are x-rays (the only diagnostic services that chiropractors generally perform) reported on the claim, the DK qualifier to indicate 'ordering physician' and the physician's name should appear in block 17 and the physician's NPI number should appear in block 17a.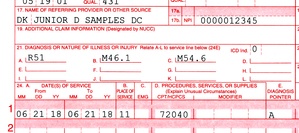 Veteran claims require a prior authorization to be obtained. The prior authorization number should be reported in block 23 on the claim form.

If you are resubmitting a rejected claim to the VA, Block 22 'RESUBMISSION CODE' should contain 7 to indicate that this is a resubmission and the 'ORIGINAL REF NO.' The reference number is the number assigned to the claim by the VA and should appear on the EOB for this claim.

---
The VA is a Federal Program. When all else fails Call Your Congressman